The Public Works Department collects and disposes of all your residential household trash and recyclables. The Department is also responsible for the maintenance and repair of the Township streets, traffic signs, recreation facilities, equipment, all of the Township buildings and parks, along with the Township motor vehicle fleet and power equipment. The sanitary sewer system is also maintained and operated by the Public Works Department. We also offer compost leaf mulch to our residents, which is available in the summer months.
Monday – Friday 7:00am – 3:00pm
2nd Saturday of the Month 8:00am – 12:00pm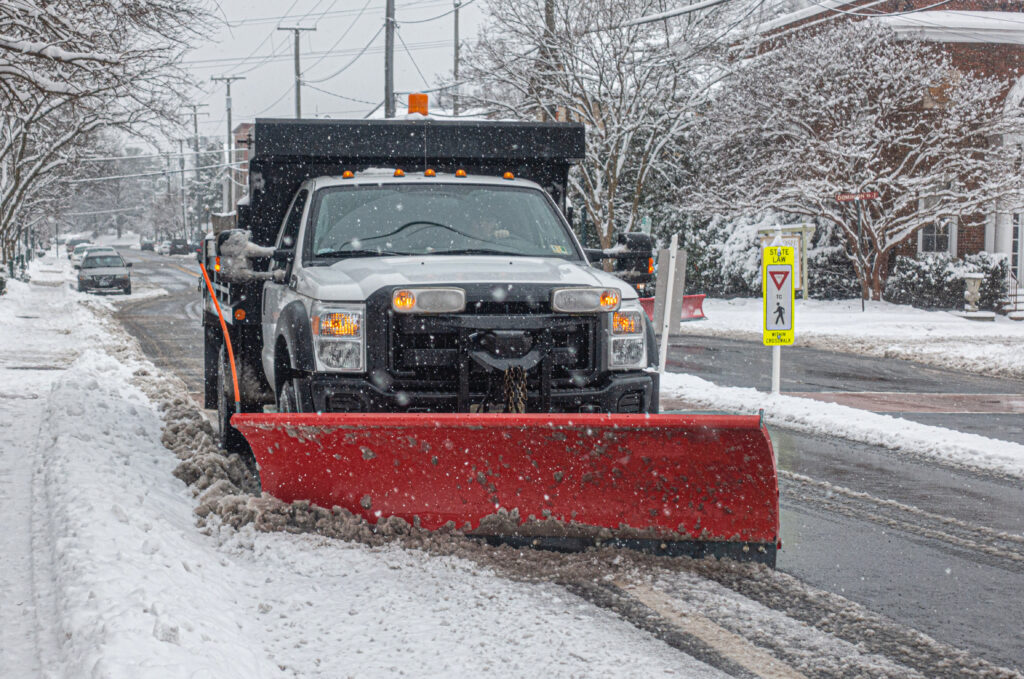 Please try to utilize off-street parking so the plows can successfully clear the roadways. Attempt to wait until the roadway is clear before clearing your driveway to avoid the snow being plowed back into the driveway. When removing snow from the sidewalk and driveways please do not shovel or snow blow snow back into the street. All state roads are plowed and maintained by NJDOT. County roads are plowed and maintained by Camden County Highway Dept.  Township personnel are only responsible for plowing municipal roadways
Street Sweepings and what to do to prepare
Street Sweeping will begin in April, weather permitting.  Please park all vehicles, off of the street, during the week of sweeping in your area, so the entire street can be cleaned.
The maintenance of street lights is the responsibility of Atlantic City Electric. You can contact Public Works with the Pole Number and we will contact Atlantic City Electric or you can report the outage by going to
www.atlanticcityelectric.com
and click on the "Outage Center" link.
Driveway &
sidewalk replacement
A
Street Opening Permit
will need to be completed if you are doing any Driveway and/or sidewalk replacement work. This form can be obtained by visiting the Township Clerk's Office.  If the driveway work that is being performed is located behind the sidewalk closest to your property then a
Zoning Permit
will need to be completed. This form can be obtained online or by visiting the Zoning Office.
Flushing disposable wipes, diapers, feminine products and paper towels plug sewer lines.
Cleaning wipes, sanitary wipes, paper towels and feminine products are designed to function when wet. These products don't break down in sewers and consequently can plug sewer service lines, mains and the pumps at the Township sewer pumping stations. 
Avoid sewer backups and pumping station backups by throwing these items in the trash. Do not flush them down the toilet.
Township of Berlin cannot maintain sewer laterals extending from your home to the sewer main in the street. Therefore, if you experience a sewer back-up in your lateral, you may either call a licensed plumber or sewer a cleaning service.
If it is determined by the licensed plumber or sewer cleaning company that the sewer main is blocked and causing your lateral to back-up, please contact the Public Works Department at (856) 767-5052 between the hours of 7:00am– 3:00pm or after hours at Camden County Central Communications (856) 783-4808.  They will contact the Township sewer on-call employee.
If you have any further questions, please contact the Department of Public Works at (856) 767-5052 during regular business hours 7:00am – 3:00pm
These are the ordinances our town has in regard to stormwater pollution. Use the drop down list to click on each one to learn more about how each protect our stormwater.
Stormwater management is very important as it flows directly to our lakes, rivers and oceans and indirectly to these waterways through storm culverts and the stormwater system.
Stormwater runoff contributes to waterborne pollutants that affect the quality of your water. We need to preserve our water supply. Everything we put in the ground has an affect such as pet waste, wildlife feeding, yard waste, just to name a few. For additional information on how you can help protect our water supply and quality of the water please visit https://www.njstormwater.org/
Ordinances, Forms, Brochures & More
MAINTENANCE AND REPAIR OF STORM DRAINAGE AND STORMWATER MANAGEMENT FACILITIES
   Stormwater facilities consist of, but are not limited to, storm inlets (catch basins), manholes, storm pipes, manufactured pretreatment devices for storm drainage, grass swales, dry wells, surface and subsurface stormwater management retention and detention basins, infiltration trenches, sand filters, bioretention systems, constructed wetlands, wet ponds, blue roofs, pervious pavement and variations and combinations of the above-mentioned facilities.
   The N.J.D.E.P. regulations, also, require you to keep records for maintenance and repair, which you have performed for these facilities, for each calendar year. These records must be kept at the site and available for review by the Township and N.J.D.E.P. representatives. We recommend that you submit a copy of these records to our office, on an annual basis, by February 1 of the year following the calendar year of record.
   To obtain additional information, regarding the inspection, maintenance and repair of stormwater facilities, please review the  guidance documents, which are available from the N.J.D.E.P. Attached is a summary of the required frequency of periodic inspections of the stormwater facilities.